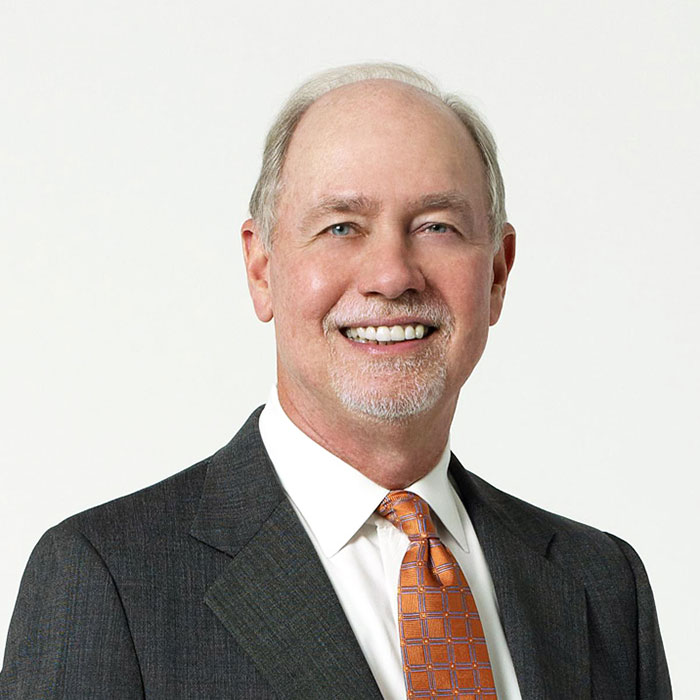 Richard Wagener, CFP®, CLU®, CRC®, ChFC®
Managing Partner, Wagener-Lee, LLC, Registered Principal, RJFS
Rick Wagener personifies an American success story. The son of a blacksmith and a bookkeeper, he became a star pitcher who was drafted by the New York Mets. When an injury ended his baseball career, Rick set his sights on business, helping countless clients meet their comprehensive financial goals.
It's All About Relationships
I believe clients bond with us for reasons that go beyond the performance of their portfolios. I call myself a "financial priest" because my clients trust me to listen and help them meet their financial "bucket list" of goals. I believe that long-term clients stay with us not just because we deliver a competitive rate of return, but because of how we help them create a plan for financial independence. I still have my very first client, who's been with me for over 30 years.
At Wagener-Lee, relationships matter.
What do wealth-building and mountain climbing have in common? Rick has spent decades honing his skills in both disciplines.
Step by Step
I've climbed Mount Kilimanjaro in Africa, and done climbs on Mount Everest, Mount Cook in New Zealand, and Mount Aconcagua in Argentina. I've hiked in Patagonia, Chile. I've rock-climbed in Chamonix, France and Courmayeur, Italy. Those experiences remind me that like life itself, the stock market is not a linear, straight line. I talk to my clients about how their finances can be difficult, similar to Day Six of a hike or climb. Sometimes you have to take a rest day, some days you just have to power through these challenges.
In Argentina, we climbed to 21,000 feet when a hurricane came in. The wind was blowing at 70-80 miles an hour. You couldn't stand up, and on a mountain, there's no running for cover. You just have to hang on. So I use these examples of patience and resiliency with clients when the market goes down. People can react emotionally, but my job is to explain that we designed their portfolio to help weather all types of stock market "storms."
Rick and his team work with individual, corporate and non-profit investors.
Firmly Invested in You
We put the depth and breadth of our experience to work for every client. In our office, I can walk a hundred feet and consult with a staff that includes a team of CERTIFIED FINANCIAL PLANNER™ professionals*, CPAs, a Chartered Financial Analyst®, and an estate lawyer. Our job isn't to sell you something. It's to work with you to create a plan to help meet your financial needs – whether offering tax advice on executive benefits and compensation regarding stock options, input to small business owners regarding long-term goals and succession planning, or expertise in retirement strategies and managing financial assets.
Whatever advice our team gives, it will be customized for each client. It won't be a boilerplate answer. When you come to us, we want to know, "What are your concerns?" so we can help solve them. That's most important to us. The other night, I got a phone call from Tom James, the Chairman Emeritus of Raymond James. He asked, "Where are you?" and I said, "I'm at the office. I've cut back a little. I'm only here 'til six or seven at night!" Then I asked Tom, "Where are you?" and he said, "I'm at the office." He's a billionaire! But we both still care deeply about helping clients thrive.
When Rick's not working for his clients, he's contributing to his community.
Extracurricular Service
I'm the past president and chairman of the board for the Baltimore Association for Financial Planning, where I was proud to receive the group's Distinguished Service Award. I'm an active member of the Financial Services Institute's Financial Advisor Council. In addition to being a former faculty member at Baltimore Community College, I've led special programs for the National Security Agency, United Nations, Pan American Health Organization, Westinghouse, Northrop Grumman and Johns Hopkins Applied Physics Lab, among others. I'm still involved in the West Virginia University baseball program, I've served on the boards of the Future Business Leaders of America, First Tee of Howard County and as a former officer of the St. Louis the King Church's Knights of Columbus Council.
Fun Fact
From 1971-73, I was a southpaw pitcher in the New York Mets organization. In 1972, after having played baseball from Little League through college, I lost my first seven ballgames as a minor league pitcher in Visalia, California. The director of player personnel (future Hall of Famer Whitey Herzog) and the pitching coach (Baltimore Orioles' All-Star Chuck Estrada) called me into the office after a game. I'm thinking, "Man, this is the end of me." But they basically patted me on the back and said, "Rick, you're not winning, but you're pitching as well as anybody. You've just had a lot of bad luck." That conversation gave me the encouragement I needed to win my next seven ballgames.
Rick 101
Rick has practiced comprehensive financial planning for over 30 years. He became a CERTIFIED FINANCIAL PLANNER™ professional in 1981, earning additional designations as a Chartered Life Underwriter®, Chartered Financial Consultant®, Certified Retirement Counselor®, and a registered principal with Raymond James Financial Services, Inc. He holds a bachelor's degree from West Virginia University, and a master's degree from George Washington University. Rick has been widely quoted in the Wall Street Journal, Money, The New York Times, and Washington Post, among other national publications. A Maryland native and founding partner of the Clipper City Brewing Company, Rick lives in Ellicott City with his wife Jay, where he enjoys golf, fishing and mountain climbing.
Raymond James and its advisors do not offer tax or legal advice. You should discuss any tax or legal matters with the appropriate professional.
Certified Financial Planner Board of Standards Inc. (CFP Board) owns the certification marks CFP®, CERTIFIED FINANCIAL PLANNER™, CFP® (with plaque design), and CFP® (with flame design) in the U.S., which it authorizes use of by individuals who successfully complete CFP Board's initial and ongoing certification requirements.
*Stephen Lee, CERTIFIED FINANCIAL PLANNER™
*Joan Marshall, CERTIFIED FINANCIAL PLANNER™
*Alan Ray, CERTIFIED FINANCIAL PLANNER™
*Michael Shipley, CERTIFIED FINANCIAL PLANNER™
Sorry, no posts matched your criteria.