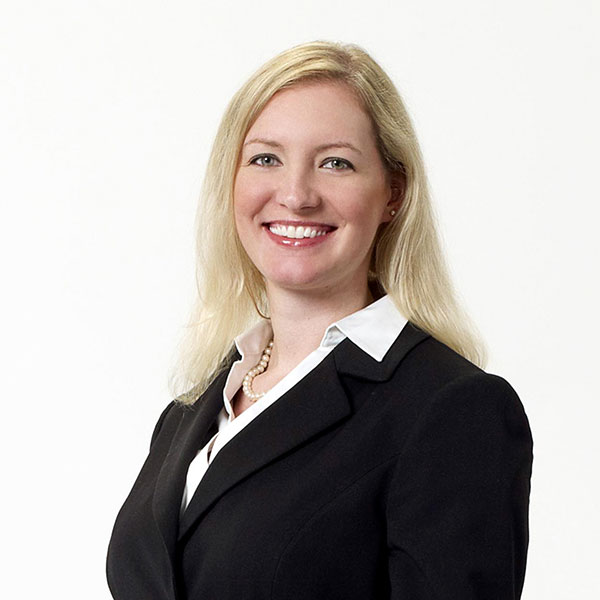 Amanda Piper, CFA®, CEP®, MBA
Financial Advisor, RJFS Partner, Wagener-Lee, LLC
Amanda Piper has succeeded in two traditionally male-dominated fields: engineering and financial services. How did she go from solving defense-industry problems to portfolio building?
Tech-Trained, Market-Savvy
Growing up, I always excelled at science and math. My sister went to Virginia Tech, so I was introduced to the school where I studied engineering and business.
From there, I joined Northrop Grumman, the global defense company. I gained experience in several areas, but really found my home in design engineering, working in advanced aperture design and stealth integration, also known as RCS (radar cross-section).
In 2010, after eight years at Northrop, I decided to take my engineering skills in a new direction by starting a career in wealth management here at Wagener-Lee.
Leveraging her lifelong interest in finances, Amanda methodically learned every aspect of the business, earning her CFA® and CEP® designations, as well as an MBA. Her specialization: advising women executives.
Invested in Your Success
Our 17-person staff offers expertise in everything from investments and retirement planning to taxes and legal advice. I first learned the value of taking a team approach at Northrop Grumman. One of my managers and mentors was a strong proponent of bringing a diverse group of people together to attack problems. If you surround yourself with those who have different backgrounds and strengths, you'll develop better solutions. At Wagener-Lee, our team joins forces to help you reach your financial goals.
The Best Part of My Job
What I enjoy most is working with my clients. My job isn't to tell someone what's most important. Only you can determine that. But I help my clients clarify what they want to achieve and then develop a plan for how to get there, whether it's paying off debt, saving for their kids' college educations, or navigating complex stock option strategies. We take a comprehensive look at clients' financial lives, not just one piece of a larger mosaic.
At Wagener-Lee, we're not just based in the community. We're part of it.
Local Focus
I'm on the board of the Financial Planning Association of Maryland, where I co-founded Women in Finance (WiFi), a group that promotes women joining the financial planning business. I also serve on the River Hill High School FBLA and volunteer for the CFA® Institute's CFA® Program. Recently, I was honored to be named to the Investment News "40 Under 40" Class of 2018 from a field of approximately 1,000 nominees. You can read more at Women and Wealth.
Fun Fact
When I was a young girl, I played a computer game for young investors, and asked my father for $500,000 to invest in tax-free municipal bonds. I had a plan to turn that into more than $1 million. But being a financial advisor, he had a better plan: he said no, of course.
 Amanda 101
 Amanda is a CFA® Charterholder and Certified Estate Planner®. She earned her bachelor's degree in industrial and systems engineering (with a minor in business) from Virginia Tech, and a master in business administration from the University of Maryland. Amanda holds series 7, 9, 10 and 66 licenses, and is licensed in Maryland to sell life and health insurance. When she's not working, Amanda can be found on a yoga mat or in a kayak. She enjoys spending time with her husband Charlie at their home in Hanover or at their family beach home in Delaware.
Each year Investment News recognizes 40 industry professions under the age of 40 based on factors including a proven track record of accomplishment, contribution to the industry, leadership and promise. Over 1000 nominees were considered and 40 were chosen to receive the award. The nominations are read and vetted by an internal group of editors and reporters at InvestmentNews. The ranking may not be representative of any one client's experience, is not an endorsement, and is not indicative of advisor's future performance. Neither Raymond James nor any of its Financial Advisors pay a fee in exchange for this award/rating. InvestmentNews is not affiliated with Raymond James.
Sorry, no posts matched your criteria.